Les Paul Classic 2017 T
A Modern Take on a Les Paul From the '60s
Explore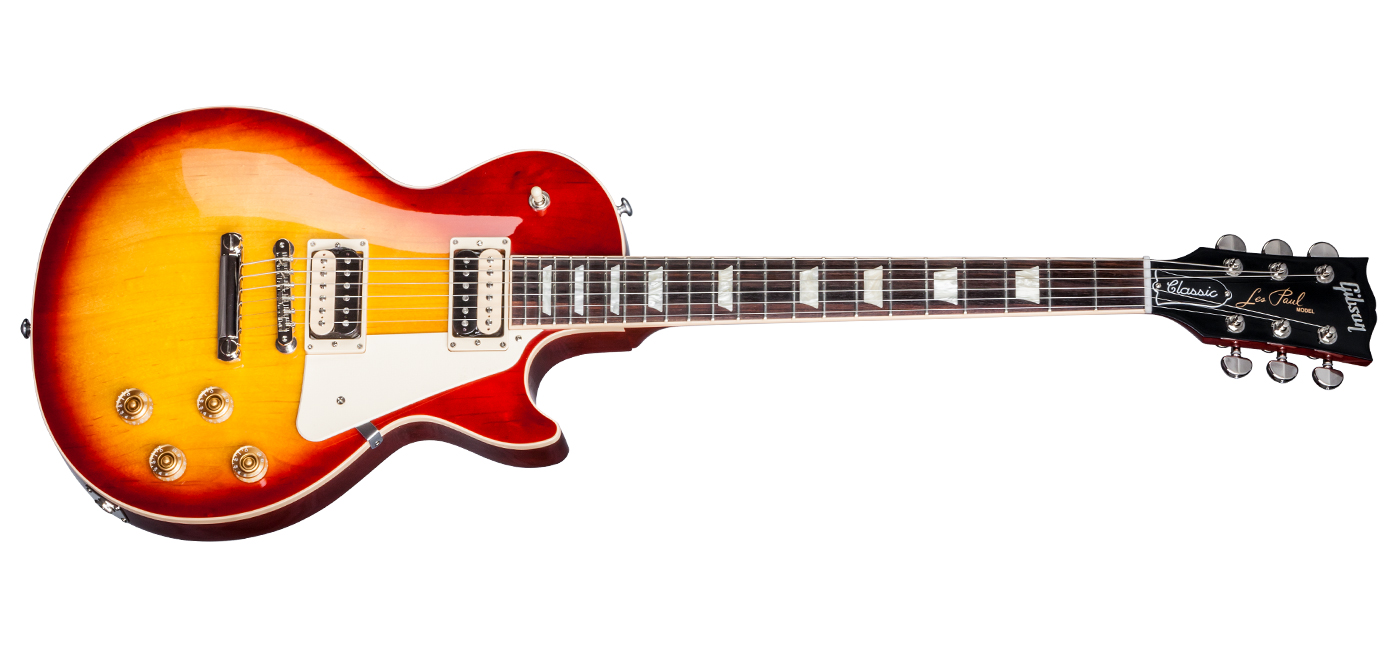 A modern take on a Les Paul from the '60s. The Les Paul Classic 2017 T riffs on the beloved guitars of the '60s and '70s while adding modern upgrades for tone and playability, yielding a true Classic with contemporary twists. A Grade-A plain maple top on a mahogany back with 9-hole weight relief combine for subtle beauty with enhanced resonance and superb playing comfort. The solid-mahogany neck has a fast slim-taper profile, a thicker rosewood fingerboard with 22 super-smooth polished frets for easy bends, and a genuine nylon nut. Zebra '57 Classic humbuckers with orange drop tone caps ensure sultry PAF-like voicings, while a nickel wired ABR bridge and aluminum stopbar combine for solid sustain. Gibson USA gently rolls the fingerboard binding for a neck that never felt so good, and Grover locking kidney tuners provide an accurate and long-lasting performance. Gold speed knobs add an elegant touch. Delivered in a classic Gibson brown hardshell case with a Gibson multi-tool, a premium leather strap, and a polishing cloth.
Body
Top
Wood Species:
Maple
Pieces:
2
Grade:
Plain A
Binding:
Cream
Back
Wood Species:
Mahogany
Pieces:
2
Density:
Low
Binding:
Cream
Weight
Weight Relief:
9 Hole
Average Weight (body only):
5 lbs. 14.4 oz
Materials Used
Glue:
Franklin Titebond 50
Etc.:
Tonal, Resonant, and/or Technical Effect:
Body Contour
Carve:
Classic
Neck

Neck
Wood Species:
Mahogany
Pieces:
1
Details
Truss Rod:
Les Paul
Profile:
Slim taper
Thickness at Fret 1:
.800"
Thickness at Fret 12:
.875"
Other Materials:
Average Weight:
1 lbs 2.0 oz
Peg Head
Type:
SP1-B
Inlay:
Mother of Pearl
Peg Head Binding:
None
Logo:
"Gibson"
Silkscreen:
Gold "Les Paul Model"
Headstock Angle:
17 degrees
Tonal, Resonant, and/or Technical Effect:
Neck Fit
Joint Angle:
5.0 degrees
Joint Angle Tolerance:
0 deg 0 min 15 sec
Type:
Mortis and Tenon
Adhesive:
Franklin Titebond 50
Gauges Used:
Pitch Height Gauge and Alignment Gauge
Nut
Style:
Nut
Material:
Nylon
Width:
1.695"
Slots:

A: 0.036"
D: 0.026"
G: 0.016"
B: 0.011"
e: 0.009"
E: 0.046"
Fingerboard
Wood Species:
Rosewood
Pieces:
1
Shade:
Dark
Fingerboard Details
Radius:
12"
Frets:
22
Nut/End of Board:
1.695" @ nut, 2.260" @ end of board
Scale:
24 3/4
Binding:
Cream
Side Dots (Color):
Black
Fingerboard Inlays
Style:
Trapezoid
Material:
Acrylic
Dimensions:
0.66" x 1.17"
Average Weight:
0.24" x 1.56"
Finishes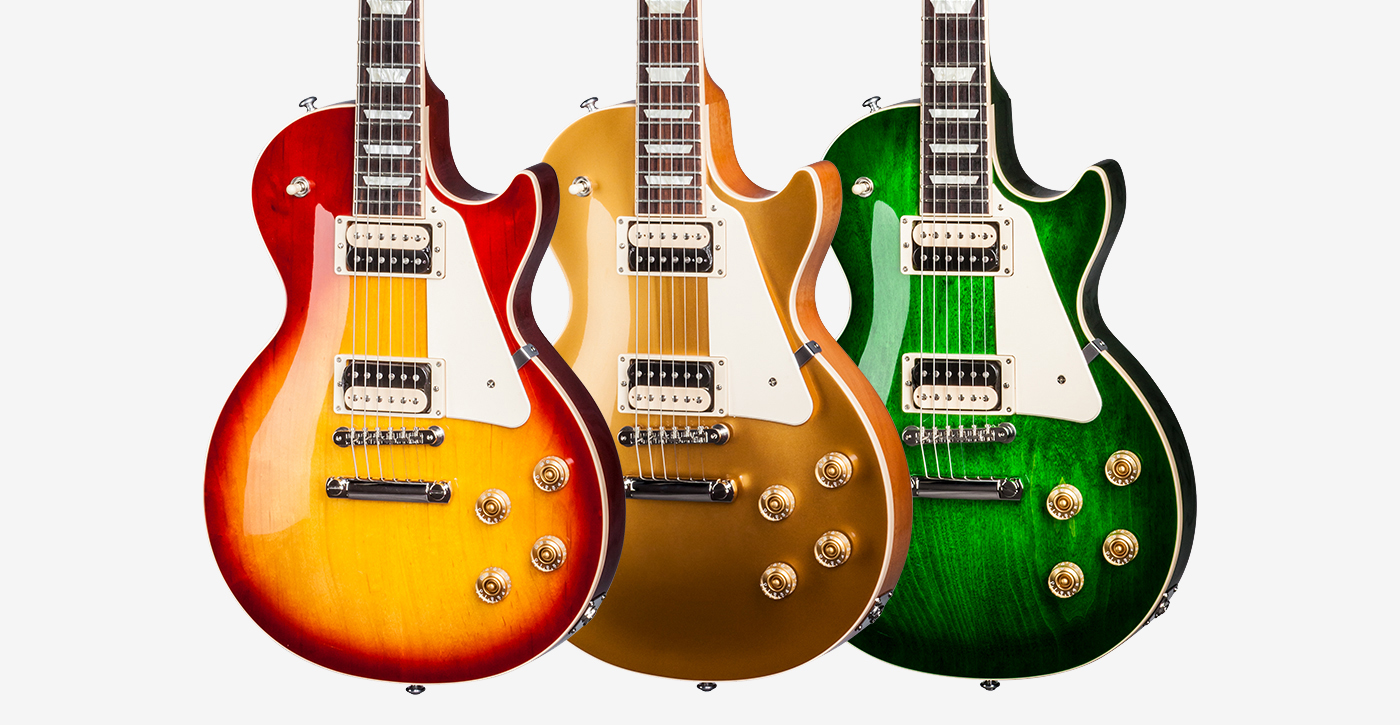 Heritage Cherry Sunburst
| | |
| --- | --- |
| Color Code: | HS |
| Surface Texture: | Smooth/ Hi Gloss 90 Sheen Lacquer |
| Filler: | Walnut |
| Sealer: | 1.5-2 mils |
| Top: | Heritage Cherry Sunburst |
| Top Coat: | Hi Gloss Lacquer / 90 Sheen, 7-8 mils |
| Scraped: | Fingerboard Sides, Body and Nut |

Gold Top
| | |
| --- | --- |
| Color Code: | GT |
| Surface Texture: | Smooth/ Hi Gloss 90 Sheen Lacquer |
| Filler: | Natural |
| Sealer: | 1.5-2 mils |
| Top: | Gold Top |
| Top Coat: | Hi Gloss Lacquer / 90 Sheen, 7-8 mils |
| Scraped: | Fingerboard Sides, Body and Nut |

Green Ocean Burst
| | |
| --- | --- |
| Color Code: | G6 |
| Surface Texture: | Smooth/ Hi Gloss 90 Sheen Lacquer |
| Filler: | Natural |
| Sealer: | 1.5-2 mils |
| Top: | Green Ocean Burst |
| Top Coat: | Hi Gloss Lacquer / 90 Sheen, 7-8 mils |
| Scraped: | Fingerboard Sides, Body and Nut |
Electronics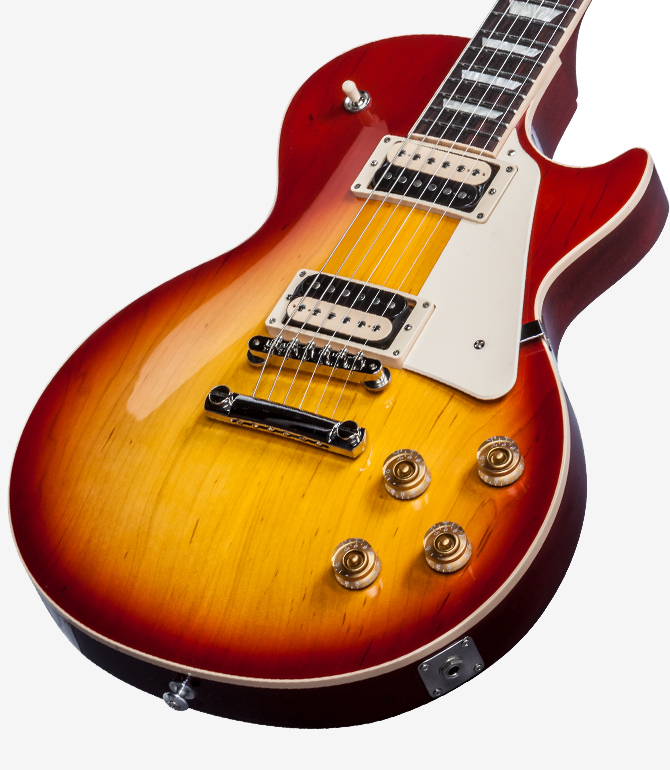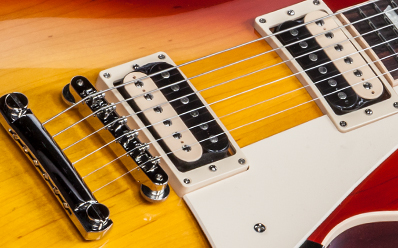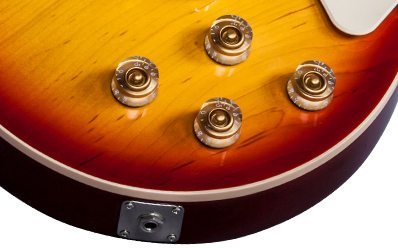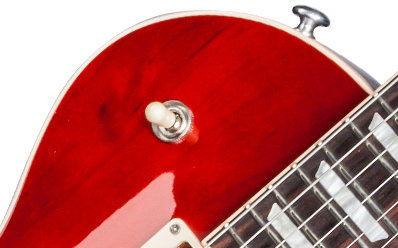 Pickups
Rhythm
Lead
Style:
57 Classic
57 Classic +
Winds/Coil: Screw side/Slug side:
5250/5250
5400/5400
Material of Wire (gauge):
Enamel (42)
Enamel (42)
Coil Dimensions (per coil):
2.61" x 0.68"
2.61" x 0.68"
Coil Material:
ABS
ABS
Coil Winding Process:
Machine Wound
Machine Wound
Pole Piece Material:
Nickel plated steel
Nickel plated steel
Pole Piece Position from Nut:
18.625"
23.437"
Slug Material:
Nickel plated steel
Nickel plated steel
Slug Dimensions (diameter x length):
0.187 x 0.489"
0.187 x 0.489"
Magnet Material:
Alnico II
Alnico II
Magnet Position from Nut:
19 "
23.125 "
Magnet Dimensions:
2.375" x 0.5"
2.375" x 0.5"
Polarities:
Cover:
Zebra Coil
Zebra Coil
Qfactor:
5.81
5.39
ResistanceDC:
7931 Ohms
8135 Ohms
Resonant Frequency:
2692.30 Hz
2593.97 Hz
Tonal & Resonant Advancements:

Control Pocket Assembly
Lead Volume
Rhythm Volume
Type:
500K Non-Linear
500K Non-Linear
Peak Voltage:
500V
500V
Range:
0-500K
0-500K
Power Rating:
1/4 watt above 100K ohms
1/4 watt above 100K ohms
Resistance Tolerance:
+/- 20%
+/- 20%
Minimum Resistance:
200 ohms
200 ohms
Lead Tone
Rhythm Tone
Type:
500K Non-Linear
500K Non-Linear
Peak Voltage:
500V
500V
Range:
0-500K
0-500K
Power Rating:
1/4 watt above 100K ohms
1/4 watt above 100K ohms
Resistance Tolerance:
+/- 20%
+/- 20%
Minimum Resistance:
200 ohms
200 ohms
Capacitors:
Lead Value
Rhythm Value
ORANGE DROP .022uF
ORANGE DROP .022uF
Hardware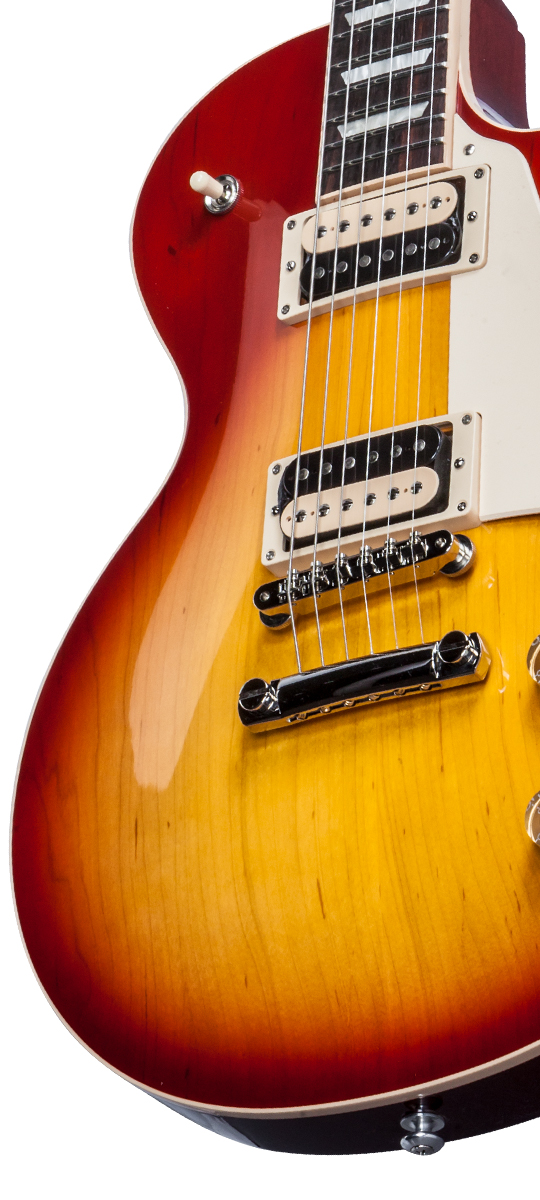 Tuning Keys
Style:
Locking Grovers
Material:
Zamak
Weight:
1 oz
Tuning Keys Details
Tuning Ratio:
14:01
Gear Type:
Worm
What is allowable turn:
+/- 4 degrees
Plating specs:
Nickel
Part numbers:
430-17717 / 18

String Dimensions
E:
0.046"
A:
0.036"
D:
0.026"
G:
0.016"
B:
0.011"
e:
0.009"

Bridge
Style:
ABR
Material:
Zamak
Plating Specs:
Nickel
Part number:
430-10255
Weight:
2.56 oz
Dimensions of String Slots
E:
0.058"
A:
0.048"
D:
0.038"
G:
0.028"
B:
0.019''
e:
0.014"

Tailpiece
Style:
Stop Bar
Compensated:
No
Material:
Aluminum
Plating Specs:
Nickel
Part number:
430-14453
Weight:
1.12 oz
Output Jack
Style:
Traditional Single Tip Jack

Jack Plate
Style:
Les Paul Square
Material:
Nickel
Part Number:
430-19460
Weight:
0.21 oz
Strap Buttons
Material:
Aluminum
Plating Specs:
None
Part numbers:
430-19160 / 60E
Weight:
0.14 oz
Plastics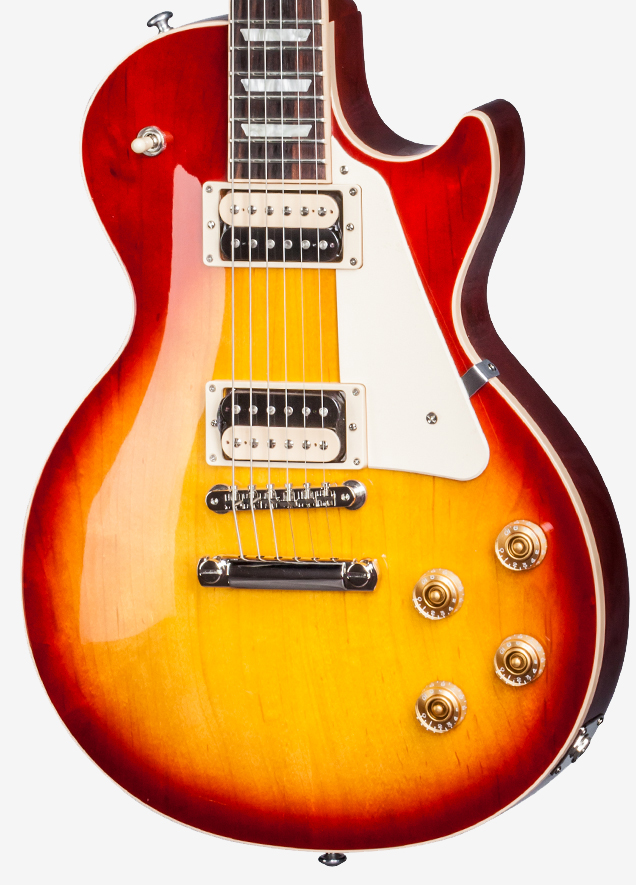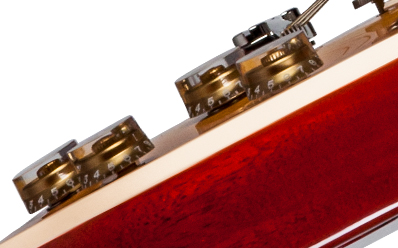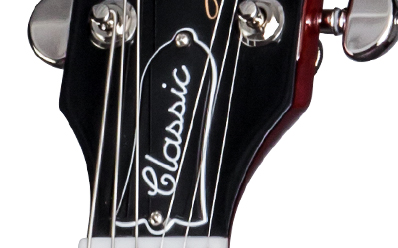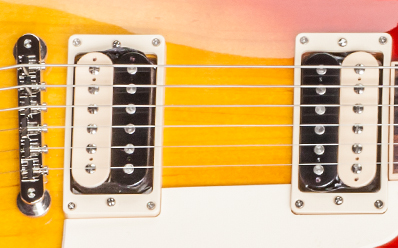 Pick Guard
Style:
Les Paul Cream
Part Number:
430-12093
Truss Rod Cover
Style:
Black/White Bell "Classic"
Part Number:
430-19780W

Knobs
Style:
Gold Speed
Part Number:
430-19264

Dial Pointers
Yes/No:
No
Control Plate(s) (Backplate Cover)
Style:
SS infused polycarbonate for ESD protection
Part Number:
380-12209

Control Plate(s) (SwitchPlate Cover)
Style:
SS infused polycarbonate for ESD protection
Part Number:
380-12211

Switch Washer
Style:
None
Part Number:
n/a

Trim Rings
Style:
Cream Humbucker Low/High
Part Number:
430-13894 / 430-13893
Accessories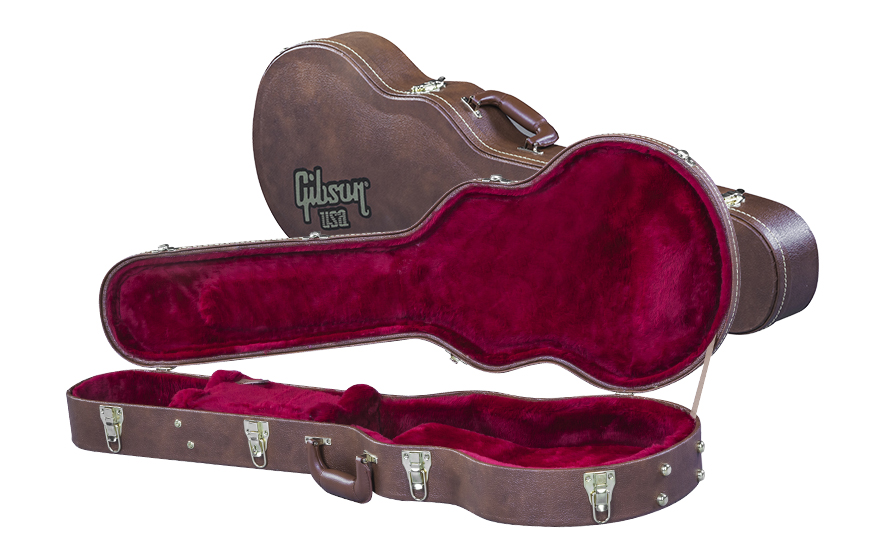 Case
Style:
Hard Shell
Color:
Brown
Strap Locks:
None
Tools:
Gibson USA Multi Tool, Gibson USA Premium Strap, Gibson USA Polishing Cloth
Manual:
Gibson USA's owners
COA/Other:
None